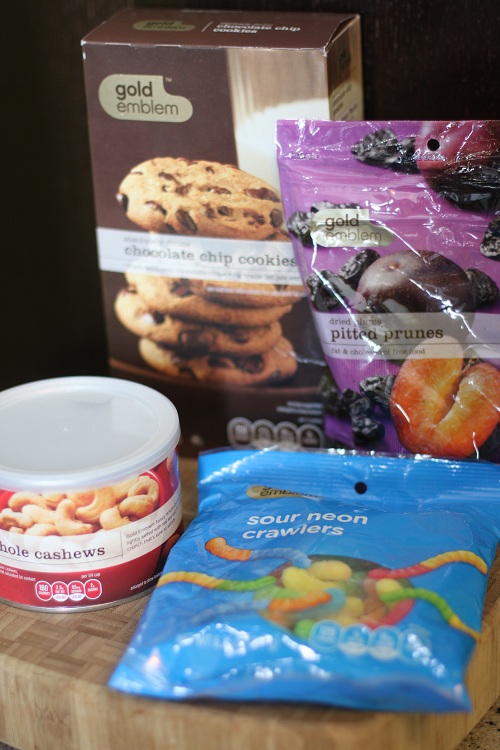 We are headed on a road trip! Trips inside the convenience stores can add up and take a toll on your vacation budget especially when you are traveling with 4+ kids. This is why I prefer to load the car up with own own snacks and drinks to save as much as possible.
Here's a Few Snack Travel Tips: 
Plan accordingly. Don't pack food that will spoil before you can get to your destination and know food preferences of the people who are riding along.
Healthy Snacks. Just because you are traveling, doesn't mean you have to skip healthy fruits and vegetables. I like to pack apples, bananas, and grapes because these are easy to transport and don't make a big mess. Cucumbers and carrots are also good veggies to transport. If you have something like the Pack-It, you could add small portion containers of veggie dip.
Fun Snacks.  Make a batch of your family's favorite cookies or muffins before your trip. CVS also has a wonderful selection snacks within their Gold Emblem product line that make it easy to travel such as Dark Chocolate Covered Cashews (yum!), Chocolate Chip Cookies, Whole Raw Almonds (great for protein!), and throw in some fun Gold Emblem Gummy Worms.  By purchasing these snacks before you get your trip started, you will save money on expensive convenience store goodies as well as having those foods handy when your cravings strike.
Beverages. I like to pack several bottled waters (the smaller ones) and bring flavor packets if we want something a little different. We might also throw in a few cans of pop in there too!  Bring along a few reusable water containers too if we need to split drinks. The reusable bottles are also nice for the hotel!

Trash Collection. Be sure to keep a few plastic bags in your car for trash collection during your trip. This makes it easy when you stop to refuel to empty out one bag. Plus, you won't get those crumblies on your floor.
Save money by buying the CVS/pharmacy Gold Emblem brand of snacks. CVS/pharmacy has a rigorous taste-testing process that includes in-house tasting panel and an independent third-party panel of professional taste testers. Compared to the national competitors you will save a bundle without noticing a difference in quality!
Products were provided by CVS in order to facilitate this review. Post was written 100% by me and was not edited by the sponsor. Read more on my Disclosure Policy.