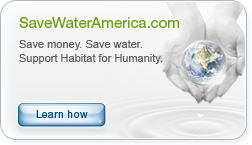 Save without sacrificing style? Kohler is promoting their new energy efficient line and educating the public on water conservation. Also, by taking a short quiz, Kohler will donate $1 for water saving products to the Habitat for Humanity. Kohler plans to donate at least $1 million which will help serve 600 homes.
By learning to preserve our water supply, you can also save yourself money. They have a nifty water usage calculator, you may be surprised at how much water you use in a day. It is amazing how much water is wasted in our country because of older and inefficient plumbing. You can watch the short video below for more information:
You can also save money by installing new products if your area is offering rebates for energy efficient products. Kohler has a list of all the rebates by state. Sadly, my state isn't one of them.
P.S. Many of you know I work for a Plumbing & HVAC Contractor and my husband is a Plumber. We personally love Kohler products and have all Kohler toilets in our home. So it delights me that a company I already love is supporting a great cause like Habitat for Humanity!
So a little plug for our company – if you want to install new energy efficient plumbing products and are in the Central Indiana area, I know a few good plumbers! (Send me a email through my contact tab and I will direct you!)