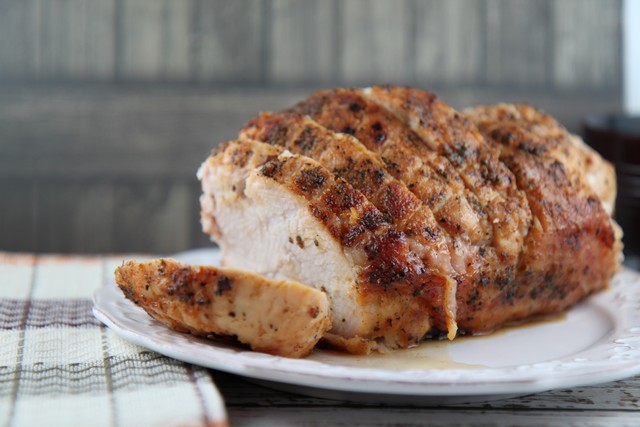 I have now made this seasoned roast turkey breast boneless recipe a few times and finally snagged a good photo of the finished product. You can score  boneless turkey roasts at ALDI for $7.99 regular price in the freezer section.  At a regular grocery store, you are going to pay around $12 – $14 for the same thing. I've purchased the more expensive version when ALDI was sold at during the holidays and it hurt me to pay almost double for the same thing. Low prices and high quality are one of the many reasons I love to shop at ALDI.
With a household full of picky eaters including two that are vegetarian, it is nearly impossible to find one meal that makes everyone happy. Even trying to find one meat dish that the family will enjoy is next to impossible. This Seasoned Roast Turkey Breast Boneless Recipe is one recipe I can make and know at least four people will devour it. In fact, there was absolutely nothing left of this boneless turkey after the most recent dinner.
If you have leftovers (we never do), you can also slice it thin as Amy Clark suggests in her book "The Good Life for Less" and use the delicious juicy turkey for sandwiches. The quality that you will get from is much higher than any deli lunch meat you will purchase. Making this boneless turkey as a roast and using it as lunch meat is healthier, inexpensive, and you know exactly what is in it!
You should have most of these spices on hand and if not, you can purchase all of these at ALDI. I think they are just around $1 and they do carry dried basil and parsley as well as many others.
The instructions on the package of the boneless turkey state to cook for 90 minutes at 350 degrees or until the internal temperature reaches 170 degrees. I find that if I take it out of the oven at 160 degrees, while it sits for 5-10 minutes after taking out of the oven it will reach 170 degrees and not dry out or be overcooked.
Seasoned Roast Turkey Breast Boneless Recipe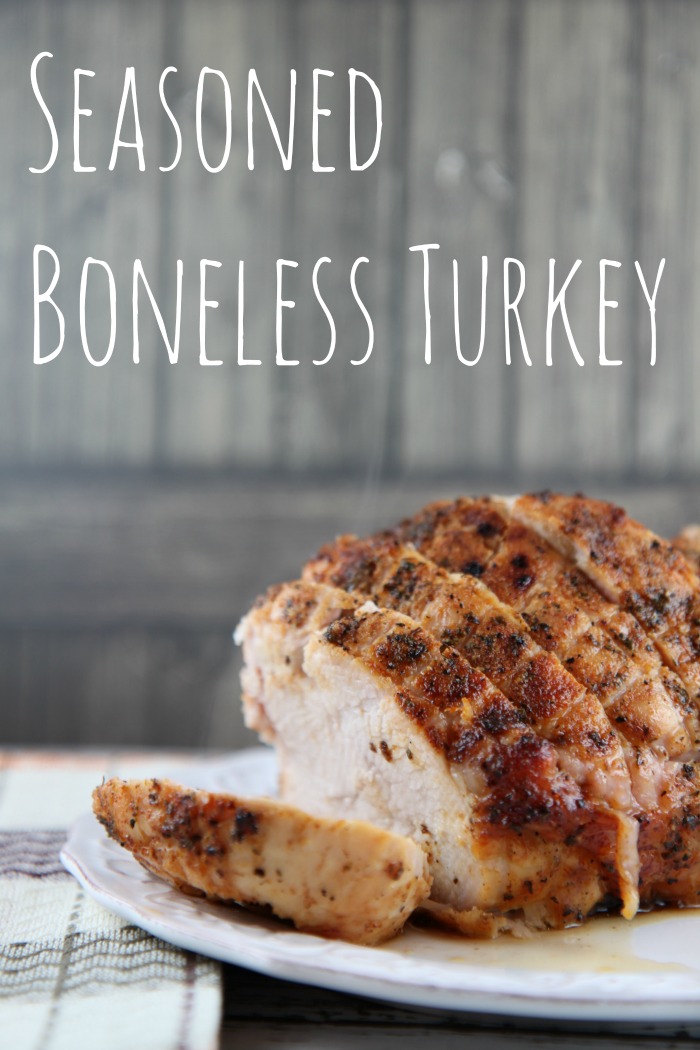 For a complete meal we paired with a simple rice pilaf (rice, vegetable broth, butter – no spices to scare away the kids!), easy ratatouille (from the freezer), and canned biscuits with grandma's homemade grape jelly. I love to make side dishes that can also be used as the main dish for the vegetarians (me!). I topped the rice with the ratatouille for my dinner!
Make sure to save this recipe as you will want to make this later!
[amd-zlrecipe-recipe:162]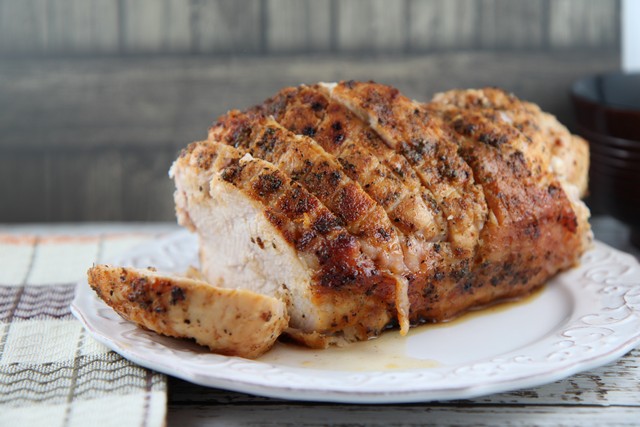 View the Recipe Index for a complete list of recipes. For the most recent vegetarian recipes posted on the blog, go here. To view all the recipes post on the blog, go here.