Sesame Ginger Tofu 
Ingredients
14 ounces Tofu, firm or extra firm
1/3 cup Blue Agave or Honey
3 tablespoons Tamari
3 tablespoons Ginger, finely chopped
2 tablespoons Sesame Oil (use the variety that is not toasted)
2 tablespoons Rice Vinegar
2 cloves Garlic, finely chopped
1 teaspoon Red Pepper Flakes
1/4 cup Flour
1 tablespoon Canola Oil
1/4 cup Sesame Seeds, lightly toasted
6 Green Onions, chopped
This recipe is very similar to the Whole Foods Sesame Ginger Deli Tofu.  This is a very tasty sauce that I would recommend doubling as you will want more. The first time I made it, I made it per the recipe above. The second time, I doubled it and it was the perfect quantity. If you have a meat eater, the sauce works well with chicken as well.
While, you do not have to have a official Tofu Press, I love the one I purchased from Tofu Xpress via Amazon last month. You can try a method like this one to press your tofu if you only eat tofu occasionally. Pressing your tofu rids it of the excess water and allows it to absorb a sauce or marinade much easier, giving your tofu great flavor. If you are going to purchase one, I would highly recommend the Tofu Xpress as it is very easy to use and doesn't take much time or effort.
While your tofu is pressing, combine the blue agave (or honey), tamari, ginger, sesame oil, rice vinegar, garlic, and red pepper flakes in a sauce and bring to a simmer.
Cube the tofu after you have drained the water. Dip the tofu in the flour lightly.
Next you can either fry your tofu or bake it. It obviously tastes better fried but baking is much healthier and it is still quite tasty baked.
To Fry:  Fry the tofu in canola oil until golden brown.
To Bake: I marinated the tofu for about 30 minutes before baking. Then I baked the tofu.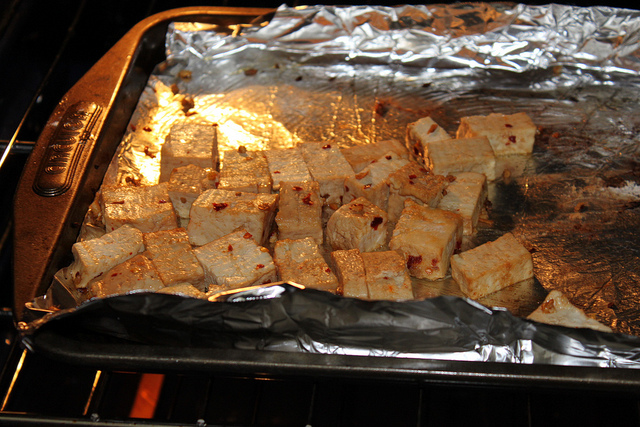 Toss the tofu with about 2/3 of the sauce.  Save the remaining sauce for your vegetables or as additional dipping sauce.  Top with your toasted sesame seeds and green onion.
On a side note, I had no clue how to toast the sesame seeds. Luckily, my friend Donna was over and before I had to google, she gave helped with out. It was quite easy but basically I just toasted in a pan on the stove. Yes, I know that is probably pretty basic but I do often google things like that!
Serves 4.
Yum, yum, yum.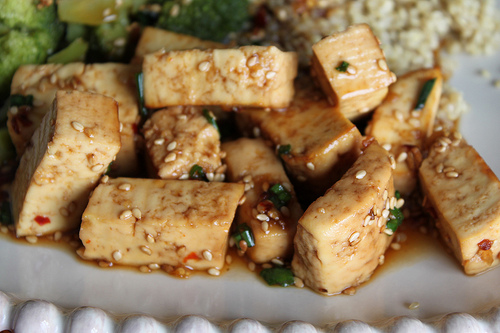 We paired with steamed broccoli (topped with a little sauce) and quinoa, which is great for protein, fiber, and iron!
Drool….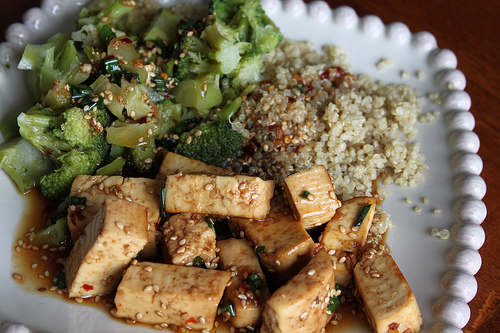 Post Dinner Analysis
This was a hit. We had some friends stop by as I was cooking and all three of them – including a 11 year old boy thought it was delicious! My husband loved the sauce and even like the tofu version. Again, one batch is just not enough so I've made a note to always double this recipe.
Freezer Friendly

I've read that you can freeze tofu. I think this is a recipe that could be frozen but is probably better freshly made.
Meat it Up

Substitute chicken for tofu using the exact same steps. I really hate cooking meat but as a labor of love for my husband, I made the chicken variety on the second batch! Either version, he says I can make it again. :)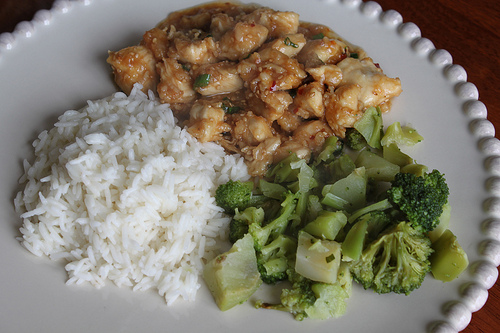 Meatless Mondays is a weekly feature which will showcase some of my hits and probably misses with living a meatless life. Many of you know I stopped eating meat about a year ago for personal reasons. While, I haven't had any desire to go back to eating meat, it has been a struggle to find healthy foods to eat.
Everywhere you go, meat is the main dish. Since I was new to this lifestyle, it led me to eating unhealthy options. I'm on a path now to cook healthier options at home without meat. While going meatless is a personal choice for me, you can still save money by having one meatless meal a week.
Will you join me on this journey by preparing one meatless dish every week?
If you have any questions about the vegetarian lifestyle, you can read more about it at GoVeg.com.
[amd-zlrecipe-recipe:1]