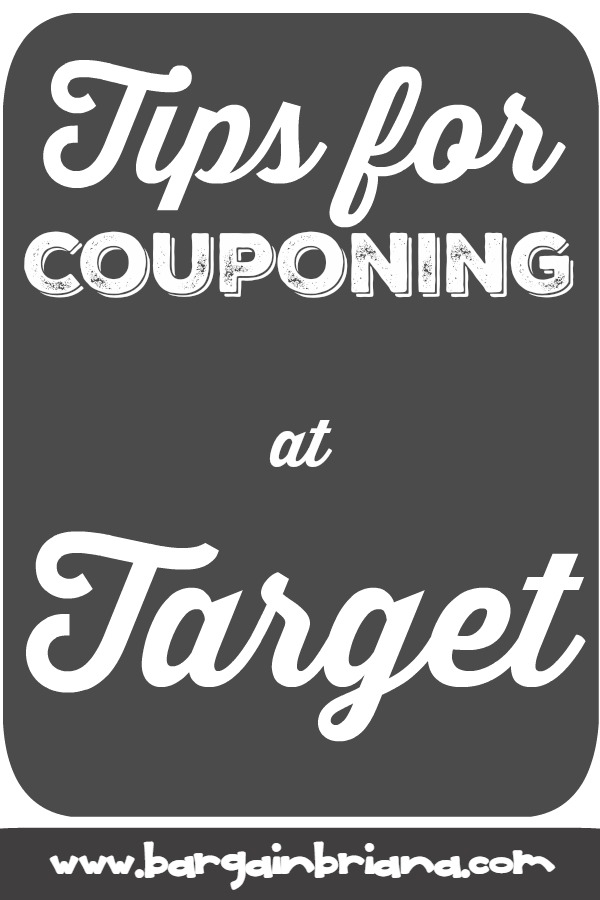 Target is a wonderland of fun and happiness for many moms, and these Tips For Couponing At Target are sure to make it a much more affordable stop.  Target has great deals and great prices already, but using their multitude of coupon and deal options will make it a favorite place for your family to shop and save money.
Tips For Couponing At Target
Print Target Coupons Online:  Not only can you use any manufacturer coupon at Target, you can also go to their website and print tons of great coupons online.  Not only do they have store specific coupons you can stack, they have a variety of manufacturer coupons for you to use.  There are often great higher value coupons at their link online than you get in your weekly newspaper.
Use Target Cartwheel App:  This app allows you to take a percentage off of various products in store.  New deals are added each week, and you can load up to 17 deals into your cartwheel at once.  This is where you find the best deals on household items, sporting goods, toys and even clothing at Target.
Watch For Target Gift Card Deals In Weekly Ads: Every week Target runs sales that include special gift card back deals.  When you buy 2 or 3 of a specific product you will receive a gift card back for $5-$50 at time of purchase.  This makes the products that much cheaper, and when you use coupons too it makes it an even better deal.  These gift cards can then be used on your next purchase giving you more free money to spend!
Use Their Price Match Promise: Target will refund money if you find an item for less in the following weeks' Target ad, or within 7 days of purchase on their website.  They also honor competitor pricing on Amazon.com, Walmart.com, BestBuy.com, ToysRUs.com and BabiesRUs.com when ads prices are lower online or in ad within the same range as listed above.  Make sure to read their full policy on it so you can go in prepared to get the best price.
https://corporate.target.com/about/shopping-experience/shop-with-confidence
https://help.target.com/help/subcategoryarticle?childcat=Coupon+policy&parentcat=Promotions+%26+Coupons
Couponing at Target is one of the best ways to save money in a store you already love.  Not only will you find already low prices, when you combine their great gift card deals, price matches and coupons you will get the best possible price in town.
Check out and join our Couponing at Target Facebook page and share your deals!
Looking for coupon matchups? Find all the stores we cover here at the Store Coupon Matchups Page. Need coupons? Print out coupons for all your favorite products here.
Did you enjoy this post? Find more money saving tips here.