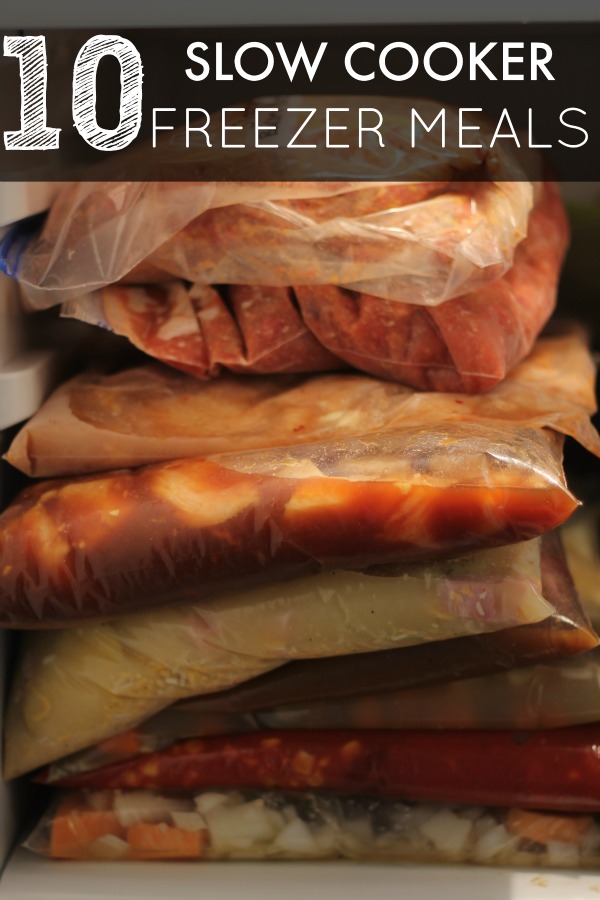 If you're not utilizing your freezer or slow cooker much, now is a great time to start. If you already are, then. you know how great freezer cooking is-hopefully you pick up some new recipes for your menu from this series. I have put together 10 Slow Cooker Freezer Meals that take less than 2 hours to prep and less than $70 for ingredients- I shopped at Walmart, if you shop the sales and use coupons, or have a lot of the ingredients on hand then your bill will be even less. I have included a few tips, and a shopping list for all 10 recipes for easy reference.
10 Slow Cooker Freezer Meals
Slow Cooker Freezer Meal Tips
Before filling bags label with name of recipe, date, and cooking instructions if you like.
Press bags flat once filled to maximize freezer storage.
Set aside 2-3 uninterrupted hours to prep and bag freezer meals.
Prep meat and veggies all at once for all meals.
Work assembly line fashion to fill bags.
Double recipes and fill your freezer with 20 meals without adding much more time.
Cool meats completely before freezing
If you need to add something like rice, pasta, or canned veggies to your meal place a special basket in the pantry to hold them so they are not used up and ready to go with your freezer meal.
Attach frozen veggies or other items to freezer bag with a rubber band to keep them together.
Do you have a slow cooker that you love? When purchasing a slow cooker, think in terms of your own family – what size would you need to prepare meals for them? Will you be transporting the slow cooker? If so, purchase a slow cooker with a locking lid. You can also find slow cookers that have two different compartments which is convenient for making sides separately. I also love the idea of this Ninja 4-in-1 that can replace several small appliances! Slow cooker liners are a must for easy clean up!
Slow Cooker Freezer Meal Shopping List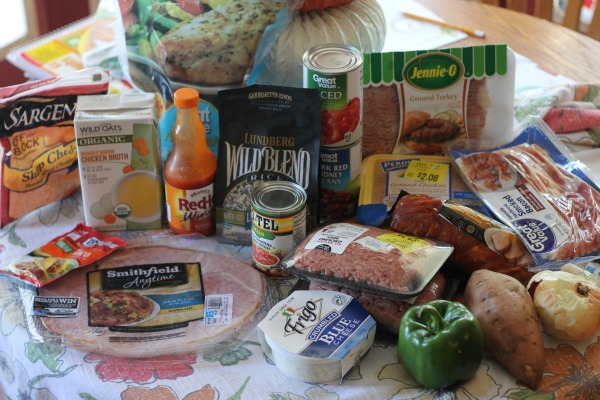 Meats
4 lbs. boneless, skinless chicken breasts
3 lb ground beef
1 lb. ground chicken
1 lb. ground turkey
1 ham steak
1 Pork loin
1 lb. bacon
Produce
1 ½ lb. russet potatoes
1 apple
celery
carrots
2 onions
1-2 sweet potatoes
Dairy
2 – 8 oz. bags shredded cheddar cheese
8 oz. package blue cheese crumbles
Canned Goods
1 can black beans
3 cans kidney beans
1 can corn
2-28 oz. cans diced tomatoes
2-14 oz. cans tomato sauce
Dry Goods -Spices/Seasonings/Condiments
wild rice
jar minced garlic
soy sauce
2 packets taco seasoning
maple syrup
honey
chicken broth
spicy brown mustard
apple cider vinegar
Printable Shopping List: Freezer Meal Shopping List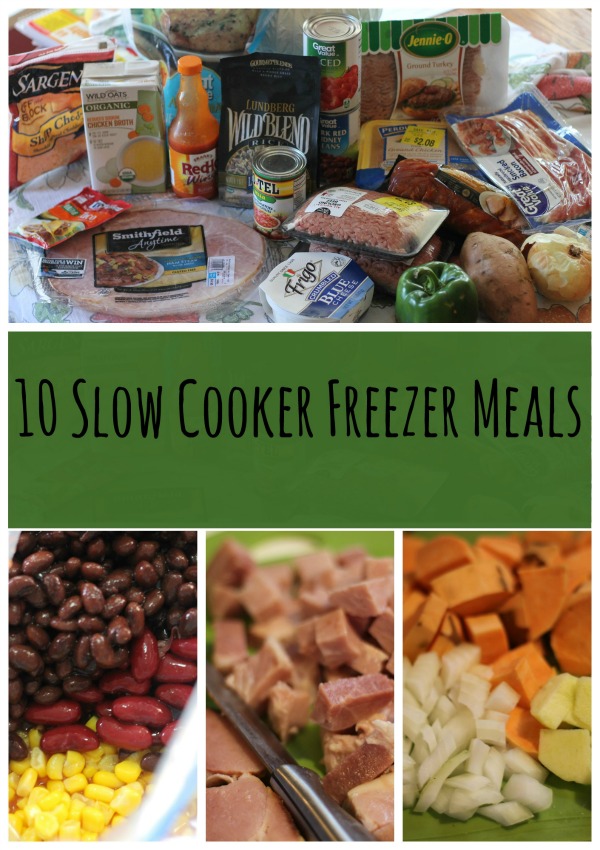 View the Recipe Index for a complete list of recipes. For the most recent vegetarian recipes posted on the blog, go here. To view all the recipes post on the blog, go here.