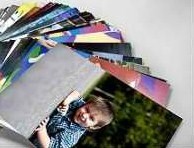 Visit ArtsCow and you can get 1200 Free photo prints when you use coupon code:  JAN11PRINTS. The code is valid until 2/6/2011 and is good for 12 months. Basically, you are getting 100 free 4″ x 6″ prints each month and 50 free 5″ x 7″ prints/month. You will have to pay shipping.
Here's How:
Sign up for an ArtsCow account. (This is valid for new members only.)
You will have to confirm your email with a special code.
Go to Account>Credits & Special Offers
Validate promo code JAN11PRINTS. (I didn't have too, mine were automatically in my account upon sign up confirmation.)
Remember to use your 100 prints each month. Just pay $5.99 shipping for the 100 prints.
I also noticed several other freebies (just pay shipping) in my account. I've never personally used Artscow and I've read mixed reviews. However, my aunt used Artscow to make these ADORABLE zipper bags with her personal photography. They were excellent quality and she paid very little for them.
You can get a total of 7 FREE 8″ x 8″ photo books (5 – 20 pages) & (2 – 39 pages) with coupon code MY8X8BOOKS. You must validate this code by 2/6/2011 and use within 30 days of validating.
Have you used ArtsCow before?