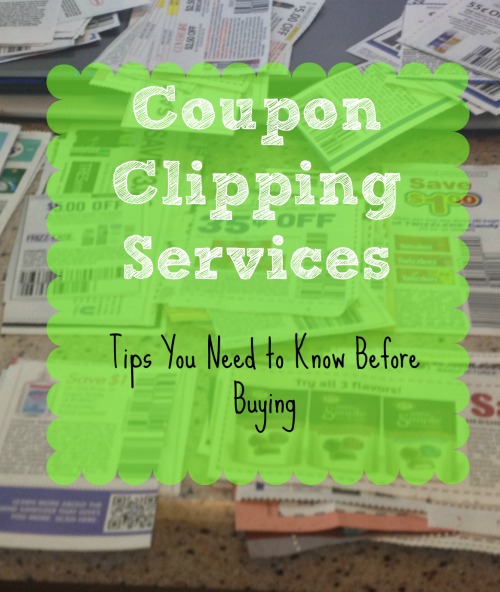 If you watched Extreme Couponing on TLC, you probably heard something about buying coupons from a clipping service. One of my readers noticed that the show didn't factor the cost of purchasing coupons from a clipping service into the total cost of the groceries. Of course, they didn't include this cost as it wouldn't be as sensational if they added in the actual costs! This cost should always be added to the total cost of your shopping trip.
There are times when purchasing coupons from a clipping service can be beneficial. Instead of buying additional newspapers to get a high value coupon, you can purchase what you want from a service like Coupons Things by Dede. Coupon prices range from $0.05 and up depending on the value and availability of the coupon.
Why would you want to buy from a clipping service?
To get additional coupons to stock up during a super sale.
To save time by having the coupons already clipped for you.
To get just the coupons you need instead of buying newspapers to get every coupon – many of which you don't need.
To get coupon values that aren't available in your area. Since coupon values are regional, your area may just get a $0.35/1 coupon but another area might get a $1/1 coupon.
You can also purchase full inserts. I've purchased whole inserts when I didn't get my paper and coupons I knew I would use from Coupons Things by Dede and have been pleased with the speed of service and total price.
Some tips when Buying Coupons
Expiration Date. Make sure you will have time to find a good sale to pair your coupon with before the coupon expires.
Restrictions. Check to see if the coupon has any restrictions on it like not doubling, one per person, etc.
Shipping Schedule. Check the site to see how quick they ship your order.
Never buy printable coupons as you don't know if they were copied. Also, you can probably print those coupons out yourself at sites like Coupons.com, RedPlum.com, or SmartSource.com.
Where to Order?
Buy through Ebay. Use Big Crumbs, Mr.Rebates, or Ebates to shop through Ebay to earn a percent back on your purchase.

When Purchasing through Ebay be sure to look at the seller's feedback to check past history! I always like to buy from someone with high volume and a high percent of feedback – 99% or better!
Have you purchase coupons before? What is your experience?
Find more couponing tips here.