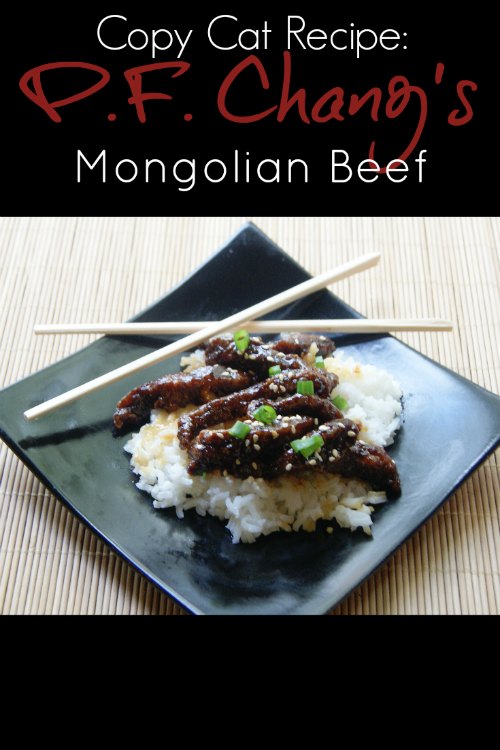 P.F. Chang's Mongolian Beef is a popular dish. After trying a few home versions, you can easily make this dish at home without having to get out of your pajamas. Plus, it is much easier on your pocket book! The delicious sweet sauce is sure to make your family wanting more. It is perfect on plain white rice and topped with a sprinkle of sesame seeds and green onion, which brightens up the flavors.
Ingredients:
1 pound Beef strips (like you would use for fajitas)
½ cup soy sauce
½ cup packed brown sugar
2 cloves minced garlic
2 teaspoons ginger fresh or paste
½ cup water
Canola Oil
¼ cup cornstarch
Sesame Seeds (optional)
Green Onion, diced (optional)
In a small bowl whisk; soy sauce, brown sugar, garlic, water, and ginger. Place sauce mixture in a small saucepan over medium low heat about 8-10 minutes until it begins to thicken. Remove from heat and set aside.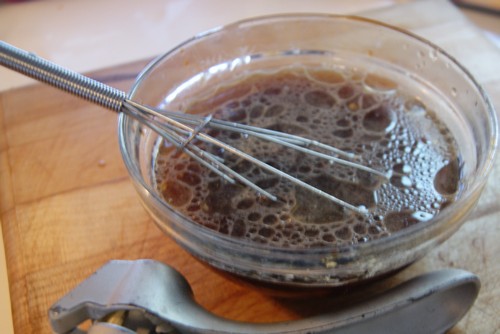 In a separate large bowl toss beef strips with cornstarch until completely coated.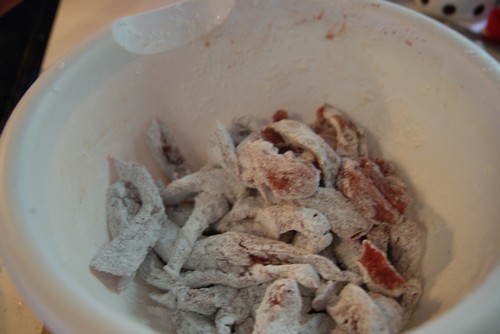 In a large pan heat 1"-1" oil on medium high heat. Gently drop in beef strips, fry until golden brown, about 1-2 minutes.  Lay on a paper towel covered plate to drain.  Dispose of remaining oil.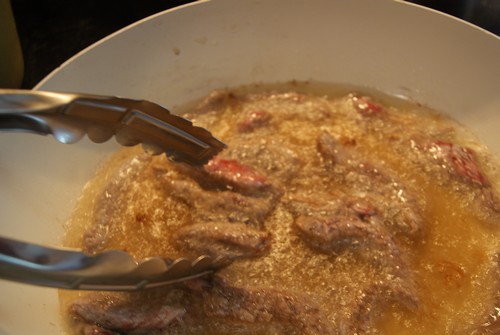 Add sauce mixture and fried beef strips together in the empty frying pan, stir over medium heat while sauce thickens further.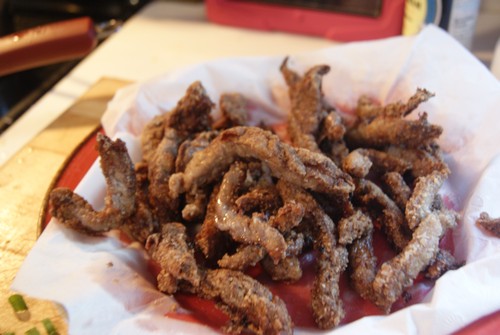 Serve over rice with a sprinkling of sesame seeds and green onions. Enjoy!
[amd-zlrecipe-recipe:214]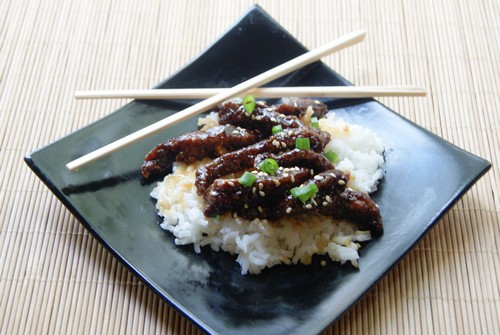 View the Recipe Index for a complete list of recipes. For the most recent vegetarian recipes posted on the blog, go here. To view all the recipes post on the blog, go here.