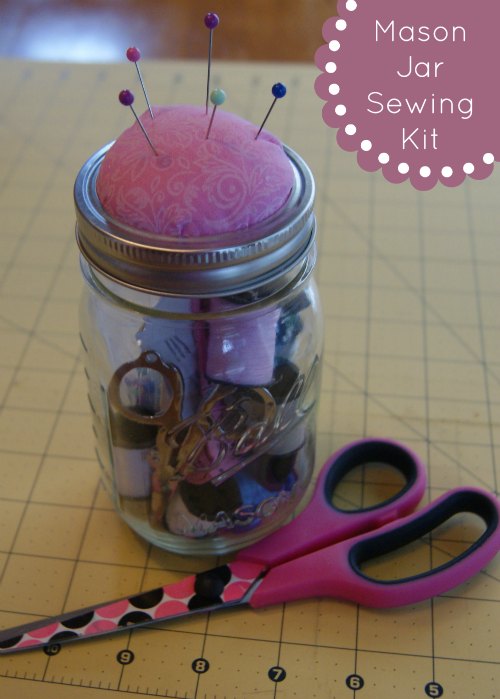 Mason jars sewing kits make beautiful and inexpensive gifts for a home seamstress, college student, housewarming gift, hostess gift, or a great bridesmaid gift.  Add a personal touch by using fabrics that represent the intended recipient; sports teams, favorite colors, patterns that match home décor, etc..
Gather your supplies: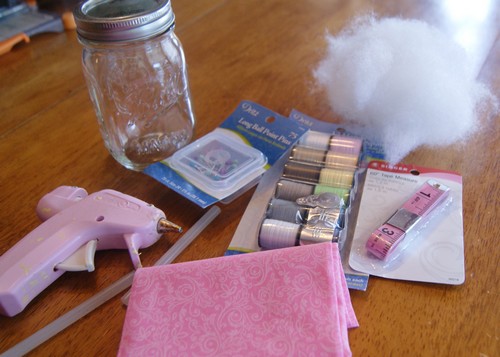 pint mason jar
mason jar lid and ring
small piece of scrap fabric
cotton batting
glue gun/glue
Sewing items for filling: small scissors, thread, measuring tape, thimble, safety pins, needles, threader, stick pins, buttons, etc.
Wash mason jar to remove residue, dry.
Lay your lid on top of your fabric, and cut fabric in circle about 1" larger than the lid.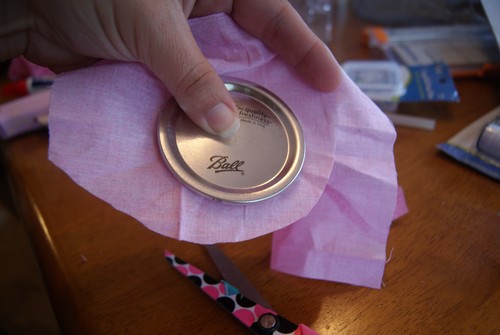 Flip lid up, so that red side is showing, apply a bead of hot glue.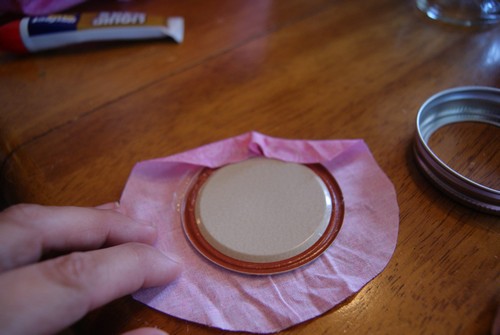 Press fabric down, and gather slightly- continue around jar working in small sections so glue doesn't harden.  Leave 2 -3 inches  unglued. Stuff batting between fabric and lid, fluff until it is even. Continue gluing all the way around.
Squeeze glue around inside of jar band, quickly press your covered lid inside, firmly.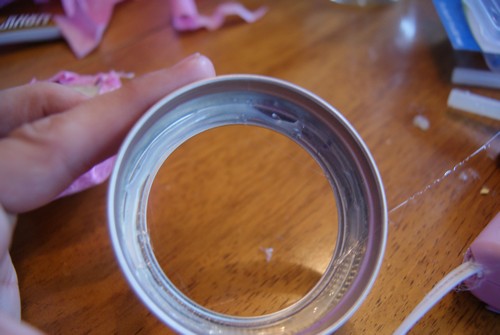 Fill jar with small sewing items. Close lid- it will be a little harder to close, but it will catch and seal.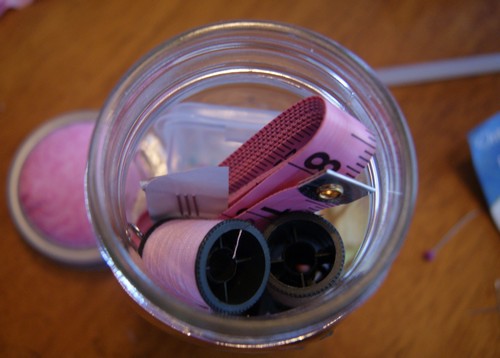 I purchased all my items at Walmart, here is the breakdown:
1 Dozen pint mason jars- $10.00, making one less than $1.00
1 fat quarter of fabric- $.97, you can get at least 8 jars out of one piece of fabric
Measuring tape: only $1.44, I had to go with pink!
Small sewing kit: This consisted of 12 small spools of thread, 3 needles, and a threader  $1.77
Tiny scissors- I already had these in my stash but I think I paid just under $3.oo, great for trimming thread ends or picking out a seam.
Stick pins- I bought a little bit fancier ones because I wanted the prettier colors for my gift, they were $2.97, plain and smaller packs can be picked up for about $1.00, again this is an item that can be used in multiple sewing kit gifts.
Less than $10.00 for a pretty , thoughtful, and handmade gift.
You can order a case of 12 pint mason jars with lids and rings here.
Find more holiday gifts in a jar ideas!
Did you enjoy this post? Find more money saving tips here.