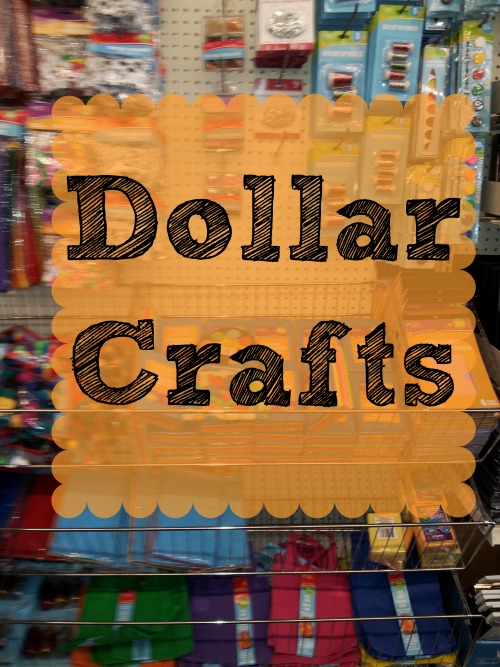 We have a pretty big craft stash, collected from Dollar Tree, Walmart, Hobby Lobby, yard sales, and even our recycle bin- toilet paper tubes, newspapers, etc.  There are certain go to items that we use almost every day because they are so inexpensive and versatile.
These are my top 20 favorite items that I always keep on hand for craft projects and a few ideas for each.
Dollar Crafts for Kids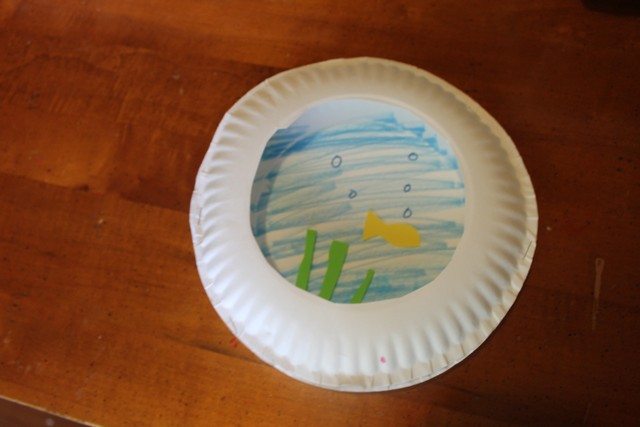 1.Paper Plates
You can turn them into masks, the sun, flowers, a pumpkin, a fish aquarium, a boat, a snowglobe, a wreath, a puppet, a butterfly, a lion, the moon… really I could list 100 things right off the top of my head that you can do with a paper plate. They are also handy for a disposable paint tray-easy clean up!
2.Craft Foam
These thin multi-packs are also limitless for  craft projects, puppets, flowers, stickers- when wet they cling to windows or walls(in the bathtub), we have used them to create covers for homemade books.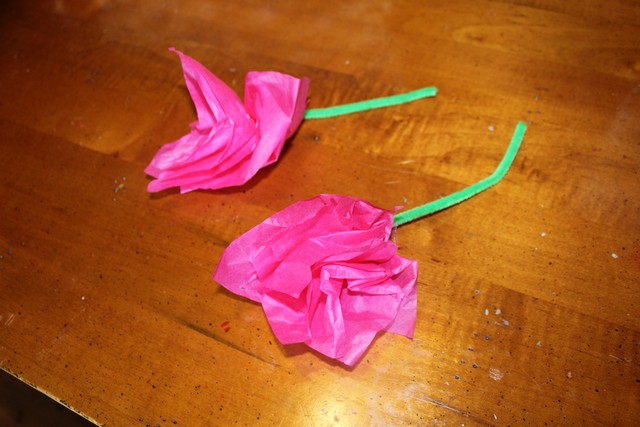 3. Tissue Paper
 Red and orange become a campfire, blue is a perfect background for a fish picture.  Multi colors can be twisted into a bouquet of flowers. We have made collage rainbows, and wrapped gifts in it.
4.Felt
Packs of multi colored felt can be used to create shapes and characters for a felt board, to make doll clothes, hats and costumes for kids, or wall hangings.
5.Glue
School glue in the squeeze bottle, glue sticks, and hot glue sticks are used for nearly every craft project we do, and all of these can be picked up at your local dollar store.
6.Googly Eyes
Great for puppets, adding to play dough for creative play, and sometimes I just like to glue a pair to a piece of paper and let the kids draw something around it- they always come up with great creatures.
7.Markers
An art box staple, markers are super versatile and will show up on a variety of surfaces, you can grab the wide markers, or fine tipped- and often with fun characters on them.
8.Crayons
I am sure you don't need to be told that crayons are a must have supply. Whether they are used with a color book or for free color on blank paper, crayons are a basic art closet staple that is used over and over.  When they are all broken and unusable you can melt them down in a muffin tin and make them usable again.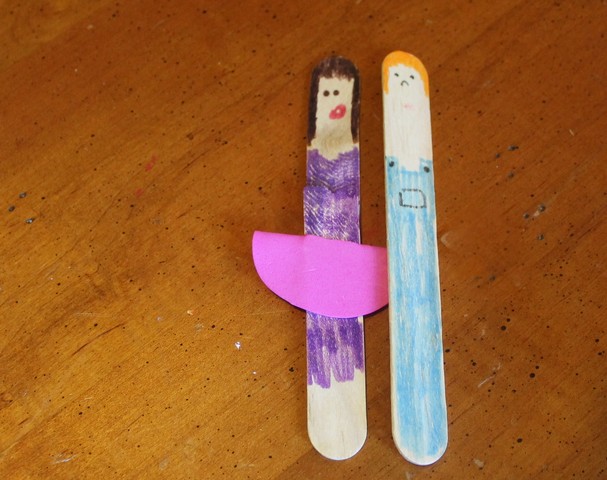 9.Craft sticks
These can be painted and used for puppets, to build a house, used as paint and glue stirrers and also as an  applicator.
10.Pom Poms
The perfect sensory bin material, glue on googly eyes and a pipe cleaner antennae and you have a cute little bug, 3 white ones stacked and glued become a snowman. They are great for toddlers and preschoolers to use as a paint dauber.
11.Pipe Cleaners
Bug antennas, curled and shaped around pencil ends as toppers, a curly pig  tail, twisted for seasonal shapes like hearts, Christmas Tree's, and shamrocks.
12. Flour
Mainly we use this a base for our homemade play dough- you can find dozens of recipes online. It has also found its way into our sensory bins.
13. Salt
We use our salt to make play dough, and you can also color it with food coloring, make a drawing with glue and sprinkle colored salt all over it for a cool picture ( looks awesome on black)
14. Pasta
Pasta like rigatoni, macaroni and large penne,  can be dyed and use to make necklaces, glued to paper for a multi-sensory collage
15. Food coloring
You can color, rice, pasta, salt,water,  for sensory bins or art projects, use it for dying Easter eggs,  science experiment combined with baking soda
16. Glitter glue
In a squeezable tube adds a little glimmer and shine to a wide variety of projects, not to mention squeezing and drawing with the glue strengthens little hand muscles.
17. Paint
Almost anything goes here, painting by brush or fingers on any kind of paper, unfinished wooden frames and birdhouses,
18. Construction Paper
Besides being a great drawing surface, construction paper can be used to cover any number of surfaces to create new things- cover clean aluminum cans to create a pencil holder, cut out shapes for flashcards, or a matching game.  "Laminate" decorated construction paper with clear contact paper for seasonal place mats.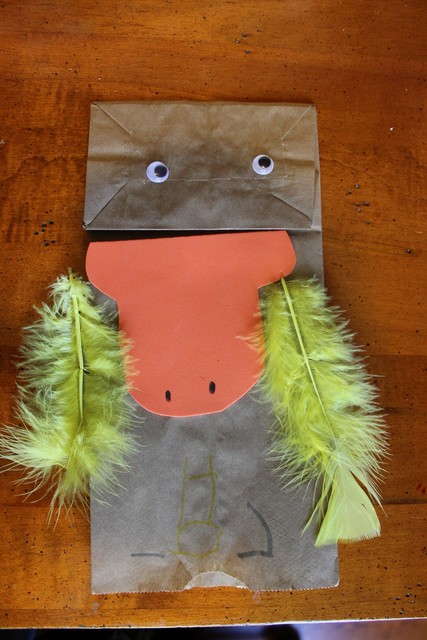 19. Paper bags
From using them as puppets to storage paper bags are super handy. The bags can be cut up, shredded, drawn on, crumpled for a cool paint technique. Stamped on or covered in stickers paper bags can be used as a homemade and personalized gift bag for small items as well.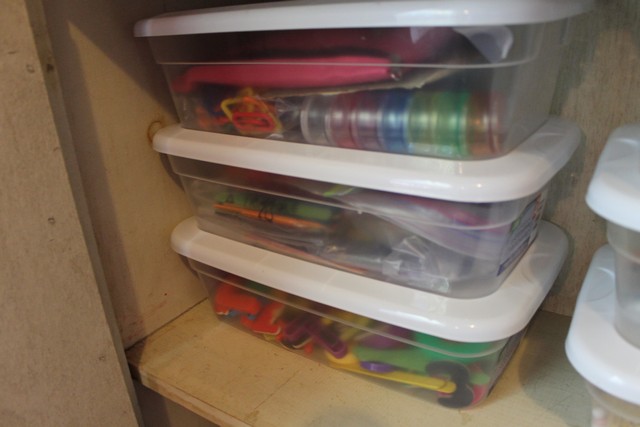 20. Shoebox Totes
I use these inexpensive and handy boxes all over the house but  they really come in handy in the craft area to contain glue, craft sticks, paint, and more. They are labeled to keep them organized. Purchasing them all in the same size and style makes for neat stacking and storage.
You May Also Like These Posts:
Did you enjoy this post? Find more money saving tips here.