This is a sponsored post for SheSpeaks/Rubbermaid. All thoughts and opinions are my own.
We have all done it. Came home from the store with delicious produce that gets hidden away in our refrigerators. Perhaps only to be remembered days or weeks later when it completely inedible. Throwing away too much fresh produce can be a costly habit. American waste $24 billion worth of produce every year, which is approximately $192 per household**. Yikes!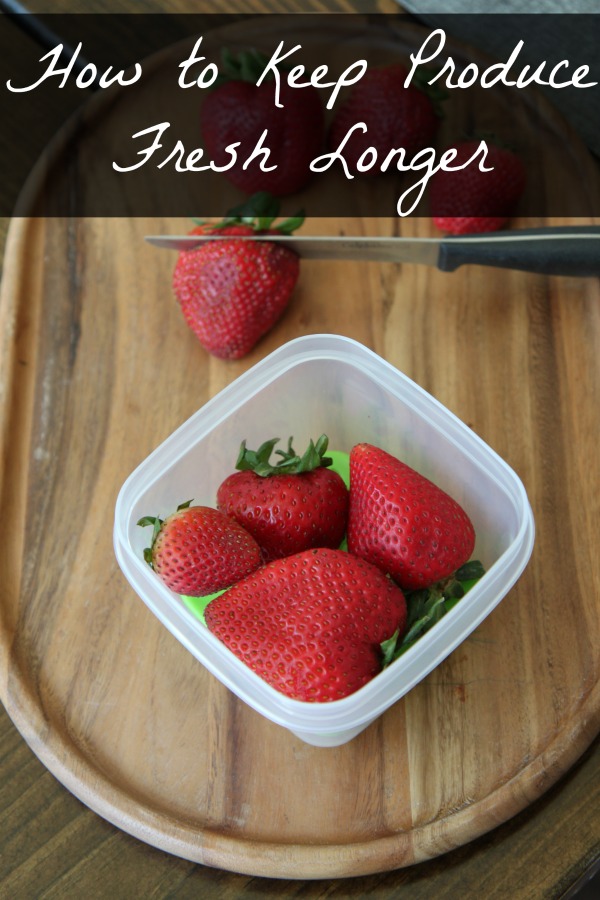 Luckily, there are a few things you can do to keep your produce fresh longer, which will save you money. The next time you buy fresh produce try these tips:
Examine all your produce before purchasing. Skip those items that are overly ripe or has bruises or spots on it. Also, if the items are in packaging, like strawberries, turn the package over to examine the produce for any moldiness.
Buy only what you can eat before your produce will go bad. I often have eyes bigger than our stomachs when it comes to fresh produce especially when all of it looks so yummy. Buy only what you can use fresh in about a week. If you can't use it before a week, it should be frozen or dried.
Use the proper containers. Rubbermaid FreshWorks is a food storage container that uses patented FreshVentTM technology to keep produce fresher up to 80%* longer than traditional produce packaging. How does it do this? FreshVent regulates the flow of oxygen and carbon dioxide to create the optimal environment so produces stays nearly as fresh as the day it was picked. The CrispTrayTM helps reduce moisture and spoilage. Rubbermaid FreshWorks Containers are microwave and top shelf dishwasher safe, BPA-free and available in three convenient sizes to hold all types of produce. Small (2.5 Cups): Ideal for small berries, Medium (6.3 Cups): Perfect for strawberries, and Large (17.3 Cups): Optimal for leafy greens.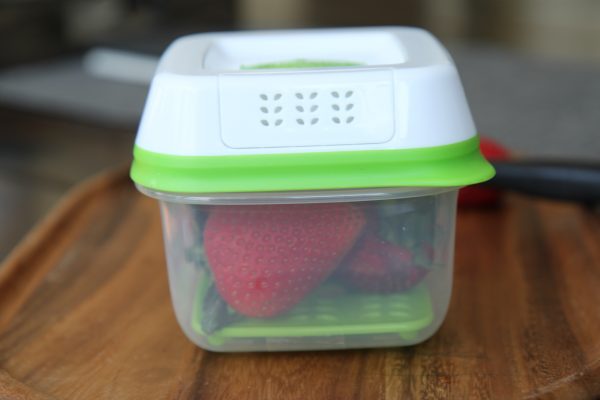 *Based on strawberries in FreshWorks containers vs. store packaging at day 21.
*Based on strawberries in FreshWorks™ containers vs. store packaging. Results may vary depending upon produce and use.
**Source: USDA 2014
How would you like to try the Rubbermaid FreshWorks food storage containers out for yourself? We have teamed up with SheSpeaks to offer one lucky Bargain Briana reader a chance to win a 3 piece set! Open to U.S. residents only.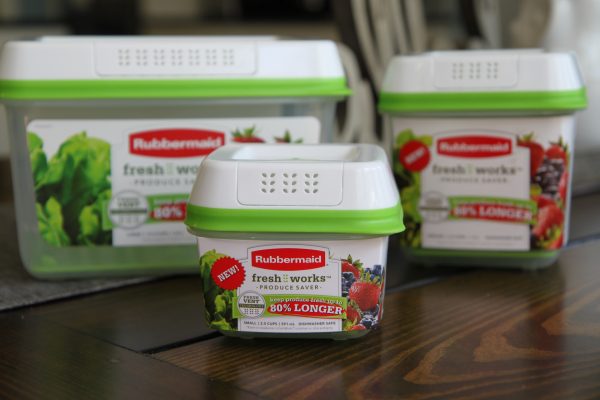 Enter via the widget below.