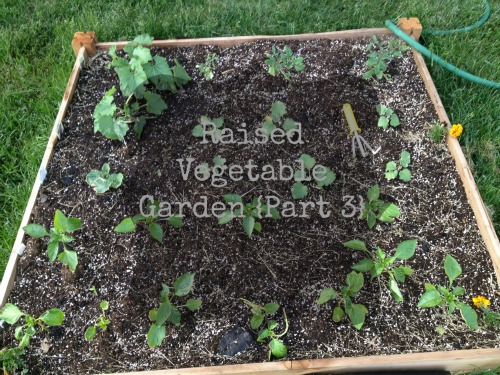 This year I decided I wanted to do a garden. We have tried to do a garden in the past and it often ends in a weedy rotting vegetable mess. This year, I decided to take a smaller approach to my garden with a raised garden attempt.
A few days after I put together my raised garden beds and creating my perfect raised bed garden soil mixture, I headed to Menards to get my plants and seeds. Yep, I made two separate trips to Menards!  The reason why I choose Menards is I had several certificates that I had been collecting since apparently 2007. So I would have the least out of pocket by going there and using these certificates.
Before heading out to Menards, I created my garden planner over at Gardener's Supply Company. They have a handy tool that you can create your site map and drag and drop the items you are planting into your garden. It will tell you how to space the items, how many to plant within each square, and other relevant information about your chosen vegetables. It is very handy.
When making my decision on what to plant I considered the following:
What my family likes to eat. This is very important. If none of us like it, why plant it? Or if there were certain items that only half the household liked, I would know to plant less. 

Vegetables we have had success with in the past. In the past, we've had success with tomatoes, eggplant, zucchini to name a few. These were high on my list of vegetables I wanted in my garden!
Space. Obviously, I'd love to have pumpkins or melons but we just didn't have the space for that within our two boxes. We did have space for green beans, peas, basil, cilantro, and peppers!
Variety. I wanted to variety of tomatoes including Roma tomatoes, big boy tomatoes, and early girl tomatoes.
Those were my qualifications on what to plant in my garden. Save money by starting your seedlings indoors before the season starts. I didn't get going that early so I purchased everything as a small plant except the green beans and peas.  Oh and when you leave the store to head over to your next stop (mine being ALDI across the street), make sure your hatch is down. I didn't realize I had left my hatch up until I came OUT of ALDI after an hour or so shopping trip. Luckily, nothing was stolen including my precious vegetables!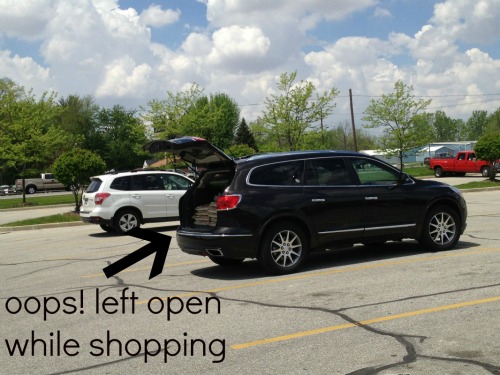 Did I really just admit I did that?
Okay, so I planted my goodies spaced out as best as I could per my worksheet. Here's one of the gardens after planting: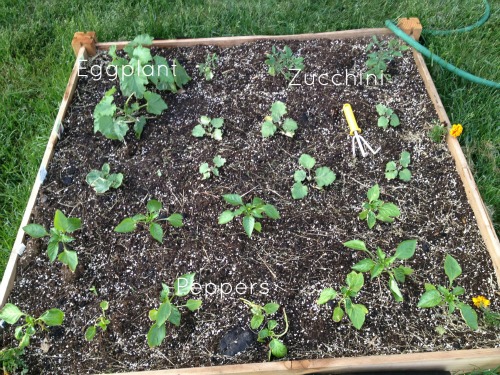 Stay tuned for Part 4 in this Raised Vegetable Garden series when I discuss what is growing! 
Read more: