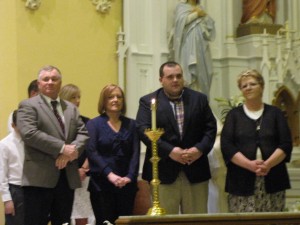 I normally don't get too personal on this blog but I feel like this is something I need to share with you. If you follow me on Twitter, you have read some of my personal tweets about our family's loss.
Early Thursday morning, my heart was ripped out. My brother who was just 28 years passed away suddenly. It has been a complete shock to my family. My heart aches. (He is pictured above in the dark blue jacket on his baptism/confirmation a couple of years ago. This was a proud moment and I love him so much.)
My brother was just four years younger than me and I never expected this to happen so soon. He always teased me about my blog in a good natured way. He would come into my office every day I worked when he got off work and ask me "How is Bargain Bri doing today." Then he would ask me about his sweetheart (Sofia my youngest daughter), inquire about my other kids,  and give me a gentle shoulder rub and make me smile in some way. Even on the days I was irritable with him. This past Tuesday, like he always does when he leaves my office he told me, "Love you Bri".
I just remembered something this morning that made me smile. He teased me about his site but he wanted his own little corner called Bill's Bargains. I can't remember what he was going to do with it but he joked about it all the time!
***I just wanted to let you know in case the deals are sparse or I just plain mess them up. I have a couple of people who have been helping me with deals and coupon match ups for the past several months so you should still be getting plenty of deals as I just need something to keep my brain occupied at this time.
Thanks to all who have sent me kind emails, messages, and tweets.