We are a participant in the Amazon Services LLC Associates Program, an affiliate advertising program designed to provide a means for us to earn fees by linking to Amazon.com and affiliated sites.
The sweetest, most adorable puppy came into our lives in December. Going from a non-dog person to this puppy is my baby has been interesting.  As much as we love our pup, she is making our floors sooo dirty! We have dark floors so everything shows up on them!
While it's wonderful that she is a non-shedding dog, she is still making a mess by bringing in leaves and other debris after her outdoor adventures. It was driving me insane to have to vacuum the floors every single night. Not only just the work of having to vacuum but the pup hated the vacuum and would chase me around and bark at it while I was vacuuming. It was exhausting!
I started to research automatic vacuums. I had one a few years ago but we didn't use it much so I sold it. Now, I desperately needed one. It would be so wonderful to just have my floors automatically cleaned every night.  I was looking for an automatic vacuum that would work well on carpet and hardwood as well as being able to set it on a timer. The previous system I had didn't have a timer so you had to plan to hit the clean button to get it to work.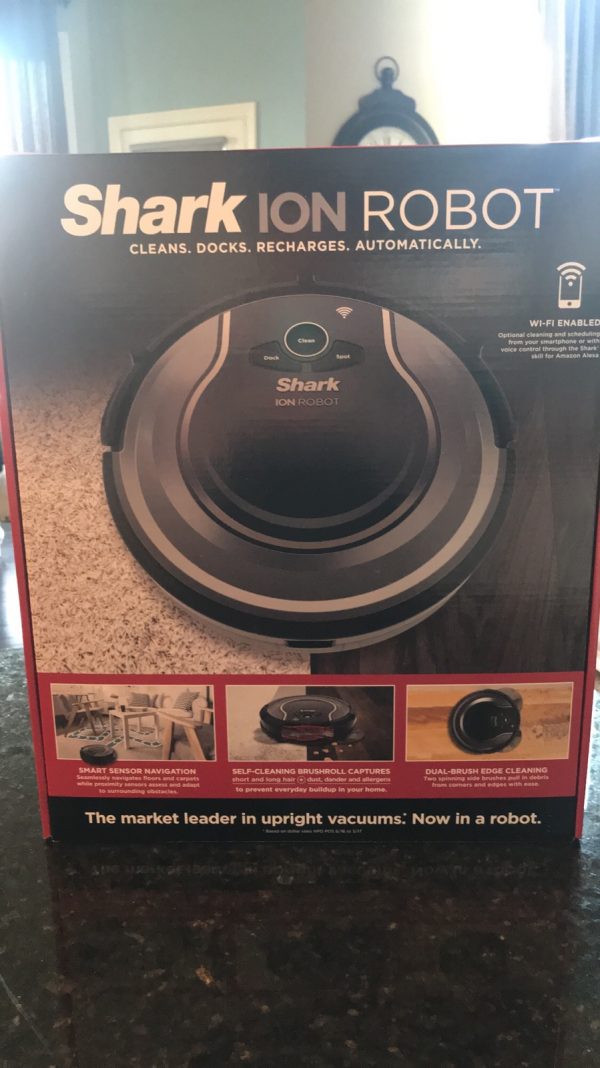 After doing extensive research, I found the Shark ION ROBOT 750 Vacuum, which looked to be the perfect match. I have several other Shark brand products that I love so this was a brand I trusted and the price was a mid-range price for an automatic vacuum. It also had an app that would allow you to remotely start the cleaning process as well as setting up a regular cleaning schedule.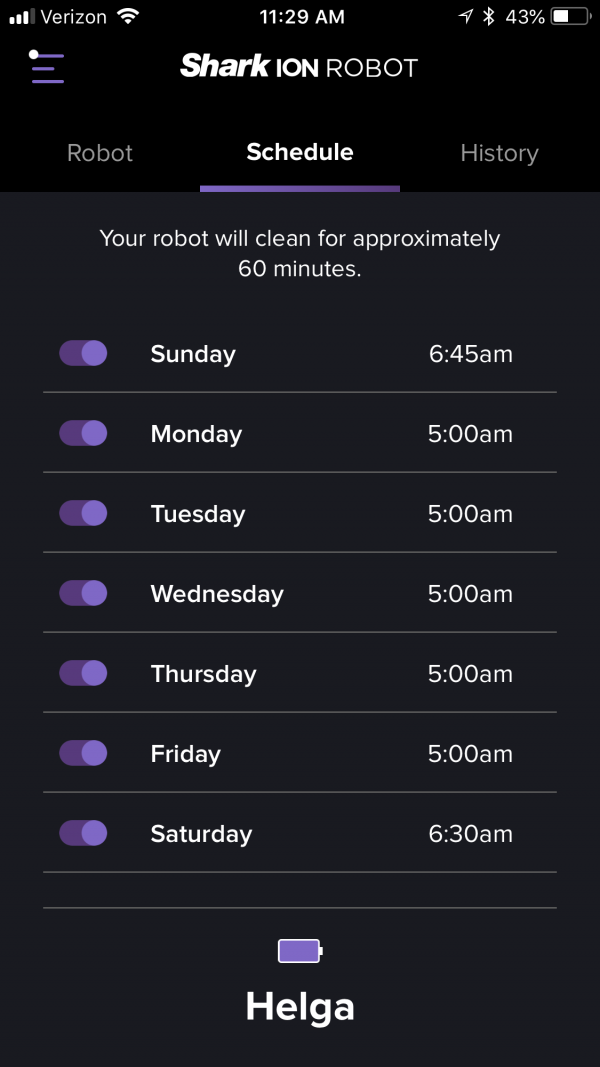 The Shark ION ROBOT 750 Vacuum was super easy to set up. It took about ten minutes to unpack the vacuum from the package and set up the app. With the Shark app, you can name your vacuum a fun name – we named ours Helga. I have our automatic vacuum set up to run every morning around 5:30 a.m. except on weekends, I have it set a little later. I LOVE waking up to clean floors and lines in my carpet.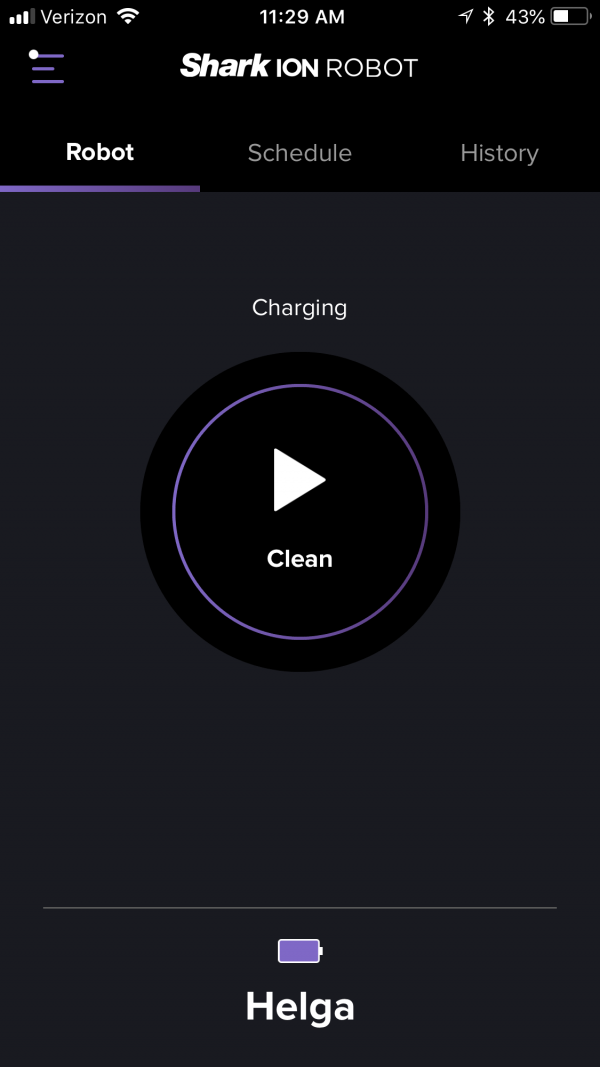 I have also used the app to clean the floors after leaving the house. I empty the collection tray every 2 days and it is collecting all that dirt, debris, and leaves that the pup is bringing in the house. The only issue I have had with the Shark ION ROBOT 750 Vacuum is that occasionally it will get caught on the edge of a rug.  The pup also likes to follow it around while it is running – which is hilarious. In just about three weeks, we have been through 54 cleaning cycles and the Shark has cleaned for 27 hours. This has saved me hours and makes me feel less stressed having clean floors. 
This device also has other features that I haven't fully explored like the strips you can put down on the floor to tell the Shark Ion Robot to not bother a certain area. This would be a good idea to put in an area that the vacuum keeps getting stuck at to tell it to avoid that area.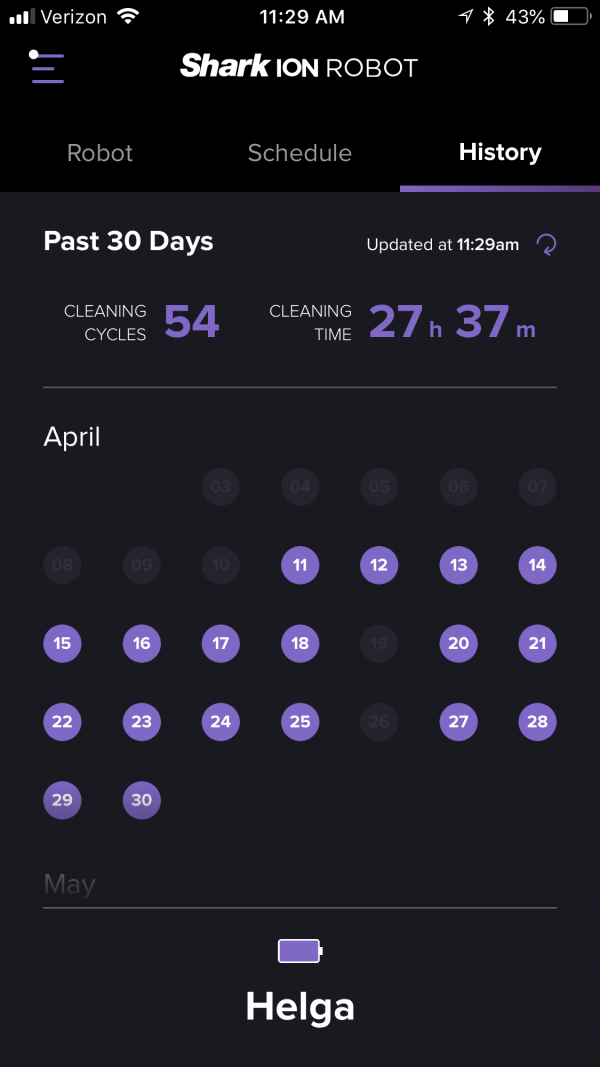 While this one doesn't map out your rooms, it does a very good job of getting to all of the areas. I will find a few spots here and there that it missed but overall, it does exactly what I need. It even goes under furniture and has cliff detection so it won't fall down our stairs. I would highly recommend the Shark ION ROBOT 750 Vacuum as a valuable addition to your cleaning tools! 
One more adorable pup pic for cuteness!!!