Have you signed up for shopkick yet?  shopkick is a FREE Android and iPhone app that gives you access to exclusive deals to stores like Best Buy, Target, Macy's, Toys "R" Us, and more. You can earn "kicks" for simply walking into stores and opening up the Shopkick app. After you install this app, you will want to go shopping just to check it out!
Here's a few new deals for you:
Both Arden B and Wet Seal are offering shopkick users and additional 10% off their purchases through the beginning of February.
American Eagle is giving 15% off your entire in-store purchase through Jan 31
PLUS if you link your Visa card to shopkick (like linking to a loyalty program, secure and free) – you'll earn up to 1000 kicks with your purchase! This adds on top of your current loyalty programs that you have with Visa already. So you just earn extra rewards! You'll also get 100 kicks for linking today.
Best Buy
Get 75 kicks when you spend $10+ at Best Buy (with linked Visa card)
Sports Authority
It's super bowl time! Get your own sports gear at Sports Authority
Exclusive deal: Get a $10 cash card when you spend $50+ & get $25 cash card when you spend $100+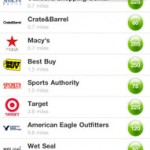 Bargain Briana readers can get a FREE $25 Restaurant.com gift certificate by signing up for shopkick via this special link. You will then receive a text message to download the app. Once you have downloaded the app, once you do a "walk-in" to a partner store, your giftcard will appear under the "me" tab almost instantly.
Read more about shopkick here and find more shopkick deals here.
While we're talking applications, we'd love for you to addBargainBriana iPhone app, BargainBriana iPad app, orBargain Briana Android App!