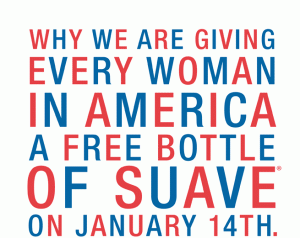 Hopefully you registered to get your FREE Bottle of Suave on January 14th. If you didn't never fear, you can get Suave products free or very very cheap with coupons and by following this blog.
I've been a user of Suave products for a long time and always stock up when there is a rocking sale. Though, even without a coupon and/or sale, Suave products are very affordable. I'm a girl who normally buys the cheapest shampoo/conditioner as possible. Occasionally, I splurge and buy salon brands but since I started hard core couponing, it is really painful to shell out all that money when I know I can something similar for much less!
Recently, Suave contacted me and ask if I wanted to participate in a new promotion to coincide with the launch of Suavenomics.  Of course, I said yes! Suave is so confident their product would match more expensive brands, they sent a whole box of products and competitor products to compare.
Isn't that just the cutest phrase, Suavenomics or is that just the Finance and Economics Major geek coming out in me?
Comparing these products side by side only solidified what I already knew. Inexpensive brands work as well as more expensive brands. I alternated days of using all Suave products, using all the competitor produ

cts, and then mixing and matching.
My hair felt smooth and soft with both Suave & Nexxus Shampoo & Conditioner. The only difference I noticed between the two was the scent. They both had a nice scent but I preferred Nexxus's scent over Suave.  The Nexxus did at times make my hair feel a little weighed down.
All the other products were comparable: the body wash, hairspray (I don't use a lot of this anyway!), and lotion. I did prefer the scent of the Suave lotion to the Cherry Jergen's. The deodorant did not have a comparision item but I do prefer it to the Sure Deodorant I was using because the Suave is invisible. I don't know how many times I've had to change a shirt due to not using an invisible solid. Here's a list of the products I tested, the size, and price.

Then, being a nerd, I've put together the chart below to show you the savings when you buy Suave compared to other brands. As we know, this is retail price and does not take into account any coupons, sales, extra bucks, rebates, etc. I can usually get Suave products for 75¢ or less when I find a sale. Other brands, I can also get very inexpensive. I haven't found an awesome deal on Nexxus though I have noticed Extra Buck deals for them at CVS in the past.
By practicing "Suavenomics," you can still feel beautiful without breaking your budget!

What do you think about Suave products?