As some of you may know, in the past few months I've lost over 40 lbs. I've had four children and with each pregnancy, I gained way too much weight. I've lost it, got pregnant, lost it…you know the cycle.
This time, I've been on a diet plan through my doctor that worked awesome but didn't leave for many choices – it was a shake/bar diet high in protein, low in carbs. Though it was great to get started quickly and see fast results, it is very expensive and probably not the most healthy plan for the long term. I don't regret spending the money because I feel so much better about myself. I feel healthier, more active, and my clothes finally fit me. However, we are tightening down the budget (or as my daughter calls it – "acting like we are poor" – hey we are acting like it so it doesn't happen!) so I needed to find a more afforable alternative.
In 2002, after the birth of my oldest son and then a pregnancy loss, I started Weight Watchers Online. I was able to lose 30 lbs by following their points plan.  With this previous experience, I thought this would be a good option to try to lose that last 10-15 lbs. So after contacting Weight Watchers, they agreed to give me and one reader a 3 month subscription to Weight Watchers online. I've completed my second week and have lost 2 lbs. Now I want one of you to join me!
While there are free sites you can use to track your calories and weight loss, I find it is so much easier to track "points" than calories/fat/etc. Plus, if you are paying for something, I find I actually use it since I'm spending my hard earned money on it.  There are bargains on Weight Watchers Online. I recently posted about how you could sign up for Weight Watchers online for just $15/month through CashBaq.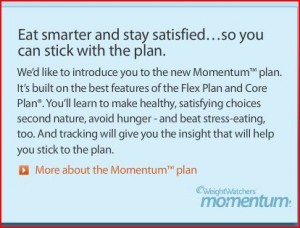 What's New with Weight Watchers? Their Momentum Plan. With the Momentum Plan you learn to eat healthy, make good choices, avoid hunger, and beat your stress eating. This will all help you to create healthy lifestyle changes and is not just a quick fix!
Getting started: You simply enter some basic information in like height, weight, age, etc. You will then be giving a daily points "target". Points are a formula based on calories, grams of fat, and grams of dietary fiber. Fiber is good for points because fiber is subtracted out of the calculation for calories & fat. Though, you don't need to worry about the actual formula because you can enter the information quickly online and the points calculator will give the points value. My start weight is 144 (darn holidays!) and my first goal is 5%, which makes my goal weight 137 lbs. In addition to a daily points allowance of 20 pts, I will get 35 points to spread throughout the week.
So now that you've signed up, time to start tracking those points. Here you track your daily food diary with "points". They also recommend you drink 8 glasses of water, eat 5-  7 fruits & veggies, take a daily vitamin, and get 2-3 servings of dairy. This is a plan for life as you can eat anything as long as you stay within your points.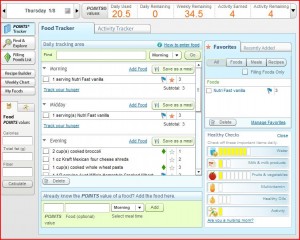 Exercise. This is something I need to fit more in. The old excuse "I don't have time" has been quite fitting lately. The first week, I exercise two days. Which earned me some points I can use or not use.The exercise formula is based on weight, intensity, and duration.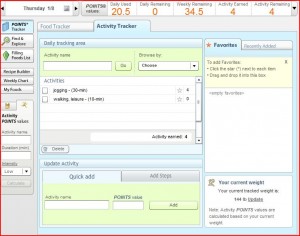 There are so many awesome tools on this site, I can't go over all of them on this post. You have recipe planning, tools/quizzes, community, articles, success stories. Each week, when I give you the weekly update, I will explore something new on weightwatchers.com.
So now that you are excited about losing weight and reaching your goals, How can you win a Free 3 month subscription?
I'm looking for someone who will be willing to share weekly or every other week their status. Someone who will help me give my readers some insight into how the plan is working or not working for them. It doesn't have to be long or formal and you don't have to have a blog. If you do have a blog, it would be fantastic if you posted a short summary each week. So please be willing to share if you win!
How to Win?
Easy Entry: Tell me why you want to win this subscription AND tell me if you win if you are willing to share your journey/suggestions, etc. with your fellow readers of Bargain Briana!
Bonus entries (Up to 4 additional entries):

Blog about this giveaway.
Grab my button. (It is on my sidebar)
Subscribe to my free newsletter via email or RSS. (You don't want to miss out on any deals/giveaways!!!)
Digg, Technorati, Twitter, Stumble, etc. (Just choose one please!) If you twitter, be sure to include me (@bargainbriana) in the twitter so it see it.
Leave a separate comment for each extra entry. It is very important that you leave a separate comment for each additional extra entry.
Ends January 28th around 8am EST. (As long as you can still comment you can enter!) Winner, chosen by random.org,  will be announced by 1/29/09 and I will contact you to get you set up online. (If winner doesn't respond to my email within 48 hours, I will pick another winner.)